Who we are?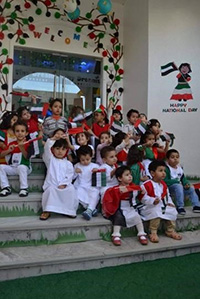 Tiny dreams nursery was opened in 2015 at the centre of Abu Dhabi city exactly in Khalidiya Area. We follow the British national curriculum – Early Years Foundation Stage (EYFS)  that sets standards for the learning, development and care of children from birth to 4 years old.
We are well-established with a committed and highly trained knowledgeable staff, a team who strive to provide the very best for you and your child. We offer children a rich experience which is designed to develop the whole child, reflecting the principles of the EYFS curriculum.
Tiny Dreams nursery is an excellent place for your child to begin friendship, the children may move freely within the school. This is highly beneficial in helping children to settle into their new school environment.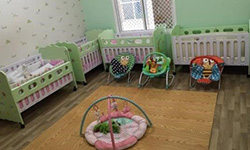 The nursery has a marvellous baby room for babies under 1 year old, with an extensive range of high quality furniture and all other baby resources. This room caters for up to 10 babies with exclusive two staff. It has a real home atmosphere and the small number enables us to maintain individual attention that can sometimes be lost in larger groups.
Upon turning 1 year and 6 months old, children move into our larger nursery soft room which caters for children aged between 1.5 and 2.5 years old. This room also boasts wide resources to cater for the children's every need and it has a direct access to our outdoor play area.
The nursery has a great outdoor area which includes playhouses.  We operate a freeflow system that enables children to make choices about what and where they would like to play both in and outdoors throughout the day- everyday, for all kinds of weather.
PRESCHOOL
In addition to our nursery rooms we also have an additional classroom that we use for preschool activities. This area is purely for children who are in their last nursery year before starting proper school. Here we are able to plan more structured activities in preparation for the transition to formal education. With an exact number of children in each class gives us a good class-staff-ratio and it enables us to give an increased amount of attention. The sessions are organised and run by our Early Years Professional which is equivalent to Qualified Teacher Status but is more focused on the preschool age group, rather than primary age group.
The structure of our nursery provides opportunities for children of all ages to play freely explore the environment and enjoy individual attention, therefore making Tiny Dreams truly a child-centred place, where all children thrive and achieve to the best of their ability.